When was the last time you were inside a gym?
With the strict enforcement of restrictions, many local gyms have closed their doors, and gymgoers around the country are now struggling to find new ways to exercise without gym equipment. One thing is for sure, you can't afford to wait until your local gym reopens before you start working out again.
The global pandemic is forcing us to redefine the way we live our lives. For the most part, it's about getting used to the temporary quarantine and isolation to help slow down the spread of the virus. In the hardest-hit cities in the United States, strict stay-at-home instructions have been carried out, forcing millions of Americans to give up luxuries that most of us have taken for granted, such as going out with friends, traveling, and going to the gym.
The existing health protocols shouldn't deter you from keeping yourself fit and healthy. On this list, you'll learn how you can turn your home into your personal gym, helping you round up a complete workout. We've taken into account that not everyone can put up large pieces of gym equipment in their living spaces, and we've selected the bare essentials that shouldn't put a hole in your pocket, or put others in your household at a significant discomfort or risk of injury.
With all things considered, here is the must-have gym equipment for your home:
Dumbbells / Weights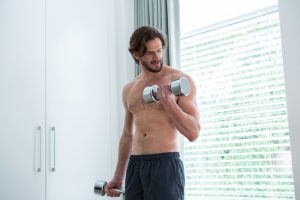 Let's start with something basic that will get you over the hump of working out. Dumbbells are cheap, affordable, and they don't take up that much space in your home. All you need is an empty cabinet to keep them out of sight and within reach of children. Dumbbells are the most basic tools you need to maintain a progressive workout. The best kinds are the adjustable dumbbells to save space – plus they look cool and futuristic.
Before working with adjustable dumbbells, familiarize yourself first with the dials and locking mechanisms. Make sure you have ample space to do your workouts and move any piece of furniture that could be in the way. When working out at home, you need to be extra cautious of your surroundings, especially if you have kids.
Rubber matting
You can do almost anything with rubber matting in your place. The most basic ones are the kinds used by gyms to protect their flooring and to serve as a cushion for weights. Rubber mattings also give you grip when working out, which is essential for your safety. These are fairly expensive, and you can even use the puzzle play mats kids play on if you have them in your home. Just pay special attention to moisture since rubber mats tend to get slippery when wet. Test the grip first to make sure that they won't move while you're working out.
Push-up stands
With limited space to do your workouts, your exercise choices can be very limited, but the staple push-ups shouldn't be a problem for you. The only issue you could have is the strain on your wrists after doing push-ups for a long time. You can purchase push-up handles or stands to make it easier on your wrists, and work out a different set of muscles at the same time. Different positions on the push-up handles will alter the strain on your arm muscles, giving you a better-rounded workout.
Heavy bag
If you have a bit of space where you can freely move around and box, a heavy bag would be a great addition to your home gym. Boxing is a great way to release stress and tension, and you'd be having a full-body workout while you're at it. The key to having a heavy bag at home is to have at least 15x15ft of open space, with a secure overhead beam to hang the heavy bag to. You can opt to use boxing gloves or do it bare-knuckle, as long as you wrap your hands properly to avoid injuries.
Battle Ropes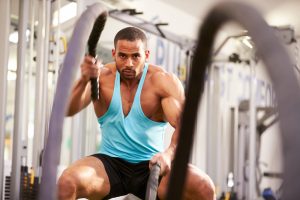 Nothing's more badass than doing battle ropes at home in front of your wife and kids. If you have an open backyard where you can do all of your workouts, a set of battle ropes is a must-have. It doesn't cost as much as your standard gym equipment, and you don't need fancy tools to set it up. All you need is about 50ft of open space to do your workouts. Doing battle ropes is as fun as it looks, and you can also use your workout as a means to get your kids interested in fitness.
Speed Rope
Speed ropes are fairly inexpensive and easy to store. Get a set of weighted speed ropes to give you the full workout that enhances your strength, endurance, agility, and coordination. However, this is a workout that is best done outdoors. You wouldn't want to pop overhead fixtures and get bits of glass raining on your forehead.
Resistance bands
If you haven't used resistance bands before, make sure to watch workouts that use them. I've seen a lot of accidents using resistance bands on Youtube, and it would be a fair assumption that it's a safety hazard for anyone who doesn't know how to use them. That being said, resistance bands are a great stand-in for weights if you don't have one at home. Plus, it gives you the additional benefit of working with different angles to focus on different muscle groups.
Yoga Mats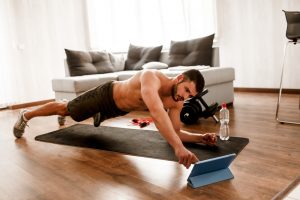 You've always known about the different benefits of yoga; the relaxation, flexibility, and full-body workout you get with yoga are all too familiar to you. The only problem is, none of your boys do yoga, and you're trying to keep that masculine reputation intact. Now that you're stuck at home, nothing is stopping you from doing yoga. Just get a good yoga mat, and watch free yoga workouts on Youtube. I'll bet your boys are secretly doing it too.
Medicine ball
When you're done bulking up, cutting down, and improving your flexibility, maybe it's time to focus on your balance. The medicine ball is the perfect tool to help you master your balance and improve your core muscles. Medicine balls are just big, inflated balloons that are insanely durable. If you're planning to exercise from home, having a medicine ball would help immensely in improving your health and balance.