With the increasing free self-help and fitness tutorial videos available online, hiring a personal trainer would not be a consideration. Doing your own thing at your own pace may seem to suit you well.
While this approach is helpful for you, hiring a personal trainer is way much better than working on your own. A personal trainer can easily point out when you're not doing a routine right. They can pinpoint the tiny details and slight movements, which you're likely to overlook, that are critical to your workout.
If you're keen on achieving your fitness goals in the timeframe you've set for yourself might as well hire a personal trainer. They help you reduce your time of wondering whether you're doing things correctly or not.
Having a personal trainer might involve some cash, but this can serve as a guarantee that you're about to get amazing results on your way to fitness, weight loss, and overall health. To give you some more light, here are the ways a personal trainer can help you with:
1. They have stacks of knowledge about the world of fitness
Personal trainers have been educated and trained to teach others about the type of exercises with their corresponding goals.
For example, if your goal is to develop muscles, your trainer can suggest the right exercises for building muscles. They also can help you find the right strategies and the right nutrition that are most effective for you while building muscles. With the right techniques, they further help you reduce your risk of injuries.
2. They can lead you to set achievable goals
When you do things alone, every goal, no matter how huge, seems achievable. With this mindset, you're likely to have a positive start. However, as you put your hands on the plow and start plowing, you discover the soil is hard making progress to be an impossible thing.
The same is true in the fitness journey. You can never guarantee that things will go on smoothly as how you expect them to be. You will hit some bumps in the road, especially when you're not doing things right.
Setting achievable goals is the foundation of your fitness' success. A personal trainer knows about the specifics. And they can help you set realistic and achievable goals.
3. They help you achieve specific goals
Do you want to look fit for the upcoming company event or be athletic for your organization's athletic league? There are times when you commit to something that you feel your body isn't a fit.
Let's say, your company has organized a sports league for the employees' team building. You're chosen as one of the athletes since you've been one in your college years. But as of the moment, you've gained weight and feel you're not as athletic as you used to be.
Regardless of the event you're going to participate in, a personal trainer can help you achieve your desired fitness level within a given time frame. Moreover, your body has changed a lot since then. This means the workout you used to do before and the length of time you get to do them may no longer work. But a personal trainer knows the right approach for your body's needs.
4. They know what you need
Like the example above, a personal trainer knows best the requirements of your body. They will provide you with specific workouts that are appropriate for your body's needs. They will also put into consideration your past injuries if you have any. And they know how to modify exercises to reduce risk or how to improve some routines to suit you well.
5. They help you achieve the right form
When you train alone and at home, you would fail to notice the slightest difference between the perfect form and the form you're trying to achieve. It's because you can't see your overall form. Doing the wrong form also increases your chances of injuries.
Personal trainers know exactly the body's tendency to perform the wrong form. That's why they're constantly on the lookout whenever you do one.
6. They help you maximize your time
Without a trainer's help, you may wander inside the gym without the right plan. You may start working on a machine or imitate what others are doing, then give up once you feel you're not doing it right. In this case, you would never see progress.
But with a personal trainer, you would know what machines to work on, what routines to follow, and how many reps you're going to do for that day.
7. They help you monitor your progress
Your success means a lot to your trainer because it also measures how good they are as trainers. Hence, monitoring your progress is of major concern for them. That's why they won't tolerate you whenever your lazy bones get in the picture. You have to show up and do it because it's the only way to see progress.
8. They help you achieve self-discipline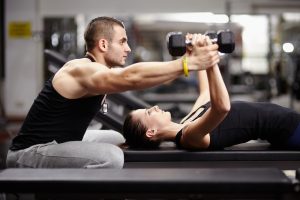 Self-discipline is hard to achieve as well as to maintain. But once you commit yourself to your fitness goals and you have someone to work with, you're likely to form good habits and become self-disciplined. This is because your trainer is there not only to help you work your body but also to help you work your mental toughness as well. They can push you when you're about to give up and shower you with encouragement when you start to hear the negative self-talk.
9. They know when you're ready to level up
In your fitness journey, you're likely to hit a plateau and may feel bored. Personal trainers expect these things to come out. Once you get bored in your routines, they know the exact variations and modifications that can help you expand yourself and flex your physical and mental muscles.
10. They know more than physical fitness
A personal trainer can help you not only in your workouts but also in your pursuit of the right nutrition. They know the right foods that can give you more energy, build more muscles, hydrate yourself, and help with muscle soreness and pain. So you don't have to wonder what to eat and when to eat something.