Summer isn't on its way anymore, it's here. And with that little fact being known, we must prepare.
I know what you're probably thinking, "Prepare for what?" Prepare for the one thing that will undoubtedly happen this summer, at least once: Barbecue's.
Whether it is with family, friends, or co-workers, BBQ's are bound to happen. And when you attend one, you're probably tempted to devour every single food or beverage they offer (because let's be honest, food at a BBQ is always amazing).
However, many foods that are at these shindigs are not so good for us, especially if we're either following a specific diet or watching our weight. That doesn't mean you have to entirely avoid them, though. It's more about limiting your intake at this point.
So, if you're attending a BBQ soon, and you want to indulge in your favorite summer foods, and you don't want to disappoint your fellow gatherers by not eating several of the foods offered, check out this good-for-you and bad-for-you list below. I'll provide the insight you need to get through these fun-filled events, and I'll rank the foods on how good or how bad they are for you.
Great BBQ Go-To's
If you want to eat a ton of food at your next summer get together, focus on the following meats:
Beef Shish Kebabs
Any Type of Fish
Skinless Chicken Breasts
Sirloin or Flank Steak
All the above foods are fun to eat and they're super healthy. You can eat them until you get full, if you'd like.
For the beef shish kebabs, allow yourself to go crazy eating these. Most of the time, these kebabs have awesome vegetables accompanying the meat, including but not limited to, mushrooms, onions, peppers, zucchini, and squash.
For the any type of fish section, load some spices and/or herbs on top of those bad Larry's. Sprinkle some lemon juice, but be sure to back away from the fire, as it may rise a little.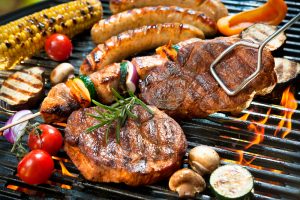 For the skinless chicken breasts, I know what you're thinking, "Why take the skin off?" Because the skin is bad for you, yet it tastes oh so good. If you do want to enjoy the skin once in a while, go for it; Just be sure of your limits.
For the sirloin or flank steak, add some salt and pepper (at least). It adds a lot more flavor than you think, especially when cooked on the grill.
Sides to go with Your Great Meals
Just like any other meal, your BBQ meal has to have a side accompanying it. The following are appropriate sides that you can indulge in without feeling guilty:
Vinegar-based Coleslaw
Raw or Grilled Fruits or Vegetables
Nuts or Seeds
These sides don't need any explanation whatsoever.
Great Desserts to Follow your Great Meals
Believe it or not, there are great desserts that you can eat without feeling as if you betrayed your diet. Those are as follows:
Melon
Fruit Salad (with any type of fruit in it)
Popcorn, with no butter
Hard Cheeses (these pair well with fruit, too)
To Drink
Great drinks that pair well with great meals, sides, and desserts, are listed below:
Plain, Sparkling, or Seltzer Water
Teas of the Unsweetened Variety
Iced Coffee with Minimal Cream and Sugar
Stick to the foods listed above. If you want to indulge in other foods, check out my brief lists below telling you what foods are pretty good for you, what foods are just OK for you, what foods are not-so-bad for you, and what foods are downright awful for you.
Pretty Good: Main Meals, Sides, Desserts, and Drinks
As for your main meal, the list below shows what you may be able to eat, depending on your diet and/or weight loss regime. Remember, these aren't so bad that you have to avoid them. Check it out:
Lean and/or Turkey Burgers
Skinless Chicken Thighs
Beef Ribs
Pork Loin
As for the accompanying sides, those go as follows:
Any Type of Bean Salad
Any Type of Fruit Salad
Baked Potatoes, specifically
Green Beans
Then, there are the desserts:
Frozen Yogurt
Italian Ice
Jell-O of any Type
Popsicles
Lastly, the drinks:
Red and/or White Wine
Diet Soda's or Soft Drinks
Fruit Juice of any Kind
OK: Main Meals, Sides, Desserts, and Drinks
As for the main meals, you'll want to limit your intake on these following foods:
Cheeseburgers (I know, they're extremely tempting)
Chicken with BBQ Sauce (limit your sauce application)
Hot Dogs
When it comes to sides, limit these, too:
Corn on the Cob, specifically with a ton of butter
Deviled Eggs, even if they're addictive
Chips & Salsa, even if they're addictive, too
As far as desserts go, chill out with these:
Sorbet of any Kind
Pudding of any Kind
And last but not least, try to limit your intake of the following drinks:
Clear Liquors like Vodka
Light Beers like Bud Light
Lemonades like Minute Maid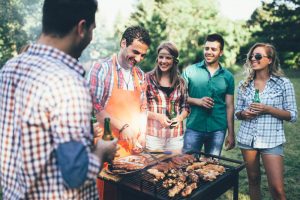 Not-so-Bad: Main Meals, Sides, Desserts, and Drinks
These suggestions are not-so-bad, but they should be avoided if possible. Check out the main dishes to eat very sparingly during this summer season:
Pork Chops (I know, I like me some pork chops, too)
Smoked Meats of any Kind
Prime Rib (too much fat)
As for the sides, eat sparingly the following:
Baked Beans of any Kind
Corn Bread, even if it's addictive
Potato Salad, as it has too many carbohydrates
Mayo-based Coleslaw, as it's high in fat
Moving on to the desserts, try to avoid the following:
Pies of any Kind (even if they're filled with fruit, it doesn't mean they're good for you)
Cookies of any Kind (even if there's raisins in them)
Brownies (even if the chocolate is oh so good)
Lastly, drinks to stay away from, if possible, are as follows:
Beer of any Kind
Margaritas (too much sugar)
Sangria (also too much sugar)
Dark Liquor of any Kind
Awful: Main Meals, Sides, Desserts, and Drinks
Please, try your best to stay away from these at all costs!
Main Meals:
Pork Ribs
Hot Dogs
Fried Chicken
Sides:
Macaroni and Cheese
Processed Snacks
Dips
Potato Chips
Desserts:
Cake
Ice Cream
Cheesecake
Drinks:
And with that, I want to wish you good luck this summer in your BBQ endeavors. Until next time!
By Jenny Lyn