Staying in shape is great for both physical and mental health. People run or go to the gyms. Some just go to dance classes and yoga classes. Anyway you do it doesn't matter.
Some cool gears could never hurt, though. While you're breaking a sweat, you'd feel a lot better if you had an anti-perspiring shirt to make it seem effortless. The clothes, the gears don't do the work, but they make you feel better while doing it. Just because you're sweating doesn't mean you can't look your best. Here are some fantastic workout gears to help you look like an Olympic champion while breaking a sweat.
Apple Airpods
Working out just feel better when it feels like it's you against the world. You can imagine climbing impossible mountains and lifting buildings to save your family. You can be the best and bravest superhero ever lived.
Apple Airpods will help keep those images alive while tuning out the rest of the world out. They are wireless headphones, so there's no hassle with cords. There's no fighting with the wires caught in something to interrupt your zen. You can listen to music, make phone calls, and set your timer without leaving your station or removing your hands from the equipment. They will stay in your ears, despite great movements. They can connect to either an iPhone, apple watch, iPad, or Mac.
Nike Metcon 3
Moving feels better with less aching feet. Nike Metcon 3 provides the perfect support for your feet while you're either running, walking, or squats. It's a versatile training shoe flexible enough for any type of workout. The upper part is made of light and durable material to make it breathable while reducing frays in high-wear areas. The bottom contains Flywire technology to lock your feet in place. It has a slim midsole made of rubber. It has a low-profile heel that provides maximum stability and minimizes dragging.
Apple Watch Nike+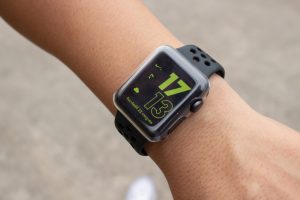 Watches are not only for telling time anymore. If that was the case, they would have become obsolete by now since every phone, computer, and even microwaves give the time of day now. Instead, watches provide comfort and style. Fitness watches like Apple Watch Nike+ provide a little bit more than that.
Apple Watch Nike+ is a product made by the union of Nike and Apple. This fitness watch can be your best workout partner. Everyone and everything is attached to your wrist.
The watch is water-resistant, lightweight, and its loop is adjustable to your wrist size. It lets you pick your calls and select your music. It also has GPS so you can never be lost while running around town and altimeter to track your progress. There are multiple other apps you can choose to include in there
Fitbit Alta HR with Public School Band
Fitbit is another fitness watch. Like the Apple Watch, it can track your progress while on the run. The Fitbit can also track sleep, weight, and heart rate. The Fitbit Alta Hr with Public School Band is a product designed by both Fitbit and Public School. It has a cord to tie it to your wrist while tracking your steps. The Fitbit and the cord can come separately or together.
Miir Wide Mouth
Miir Wide Mouth is a water bottle. It's always a good idea to stay hydrated while exercising. Otherwise, the body starts to dehydrate and cause problems in the long run. This water bottle has a Thermo 3D double wall vacuum insulation technology to keep the water cold for as long as 24 hours. It also has a Temp Deflector technology for either cold or hot beverage. It reflects the temperature back into the bottle to keep the beverage at its original temperature for as long as possible. Its stainless steel doesn't transfer any flavor into the beverage, so there will be no metal aftertaste. It's easy to clean and leak free. It comes in three different sizes depending on your need.
Daily Duffle by RYU
Your gym bag doesn't have to be worn out and dirty. Just because you're going to the gym doesn't mean everyone has to know about it. Daily Duffle by RYU can keep your secrets while keeping you looking sleek and cool. Its internal shell keeps its form regardless of what you put in it. It also has a large storage space so, you can put workout clothes, gears, and food all in one place. If you're making one trip from work to the gym, the daily duffle has plenty of space for your work papers and any other stuff you want to put in it.
It has a diagonal top flap that shuts magnetically, so no fights with any zipper. You can wear any way you like. Over the shoulders or by the handles.
Adidas Supernova TKO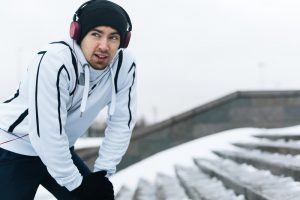 Working out is not only for the great indoors of the gym with controlled temperature. Some people exercise outside and have to do it through whatever temperature mother nature throws their way. Adidas Supernova TKO is a hoodie for when winter comes, and the wind starts to bite. It's water repellent, and the mesh fabric lets air flow in. It has a sweat guard pocket and a full zip hood. The best part, it is packaged in its own pocket.
Circuit Performance Long Sleeve Crew by Hylete
If a hoodie is too hot or too many clothes, this shirt provides enough protection on its own. It has a lightweight seamless construction to limit chafing. It traps in excess sweat while its mesh panels provide heat ventilation. It has an athletic shape and 4-way stretch to keep movements comfortable and unrestricted. It makes anyone stand out in the crowd while feeling good. It comes in a few color choices and costs about $75.
GapFit Core Mesh Shorts
These shorts are much more comfortable and stylish than your average basketball shorts. They are nine inches, long enough to provide plenty of coverage. They have on-seam pockets and elasticized waistband with inside drawcord. They are made of breathable mesh fabric and contain dry moisture wicking to keep the skin dry. They come in different sizes but only two colors – true black and red sunset.
Working out is not about looking stylish. It's about the person's health, but looking comfortable and cool while lifting those weights can help build someone's confidence. It's all about self-care, so don't go overboard with the gears. Stick with what feels natural and helps you reach your goals.