Eating out should be the opposite of stressful but it's not the case when there's a medical illness involved such as Type 2 diabetes. In this case, going out to a restaurant cannot be as simple as it seems. One needs to be extremely cautious with what to eat and how much to eat them. This can also be tough seeing all sorts of temptations on the table.
There's also the risk of waiting a long time for the food, which is something that must be avoided when you suffer from the disease. The good news is that as long as you're prepared, you can still hang out with your friends to check out that new restaurant in the city without worrying about your condition. Here are 9 tips to for dining out when you have Type 2 diabetes:
1. Assess the restaurant firsthand
Sure, you can check the restaurant's menu to prepare for your night out, but you can also take it to the next level by checking the place's social media sites to know more about it. Social media photos will give you an idea of the foods' portion sizes and which meals or dishes you think are ideal for you. This helps when it comes to setting your mind for portion control.
2. Bring a snack
Dining out means there's no guarantee you'll be seated immediately even with a reservation or that your food will be served right away. Delayed meals mean a drop in blood sugar, so it's best to bring a snack with you to avoid it. Some of the best options for snacks are almonds and unsweetened dried fruits. Also, if you're on short-acting insulin, wait for your food to be served before taking it.
3. Examine the sauce
The content of carbs in a dish can vary largely, particularly if there are sauces or additives involved. For one, sauces are frequently loaded with sugar and other concealed carbs such as cornstarch or flour. What you can do is to avoid it entirely or ask for it to be on the side so you can control your consumption.
4. Avoid salad dressing
Having a salad at the beginning of your meal is a great idea since it is rich in fiber. Research also demonstrates that salad consumption can lessen overall calorie intake by 11 percent during a meal. You just have to be cautious when it comes to the dressing since salad dressings are usually loaded with concealed carbs and added sugars. Even the low-fat or fat-free kinds also have the same issue. Sometimes, these even have higher amount of added sugars to enhance the taste or flavoring. The healthy option when it comes to salad dressing is oil or vinegar.
5. Go easy on bread
While you don't need to forego bread, it is important that you don't binge on it. So, ask for it to be served with your meal and only consume a single piece. Plus, there's research indicating that the order of your food consumption is also important, which means that eating either protein-rich foods or vegetables first before you eat bread is better when it comes to stabilizing your blood sugar.
6. Go for red wine
Whether there's a special event or just a get-together dinner with friends, it's definitely more fun to have a little alcohol to complement your meal and the best option here is red wine. Studies suggest that a glass of red wine with dinner can enhance the cardiovascular health of individuals with Type 2 diabetes. Just remember to not drink on an empty stomach. Wait for your food to be served first before you indulge in a glass of wine.
7. Leave a room for dessert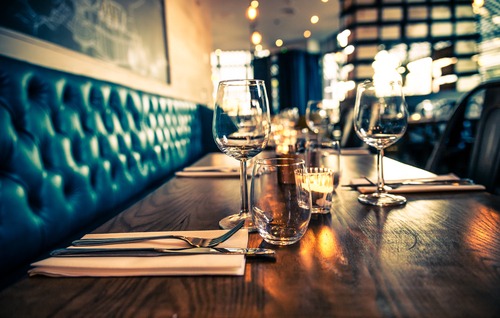 If you have a sweet tooth, a dinner at your favorite restaurant won't be complete if you don't order dessert. To do this, go easy on the carbs for you to enjoy a small piece of dessert. Go for chocolate ice cream instead of cake or pastries since a half-cup scoop of the former only has about 140 calories and 19 grams of carbs compared with the more than 500 calories and 80 grams of carbs in the latter.
8. Be wise on chips
If you like Mexican foods, a Mexican meal may seem incomplete without chips. To make it healthier, ask for plain corn tortillas instead of chips. Have them during your meal and not prior for the same reason as with eating bread. You can also place your tortilla chips on your plate so you can estimate the quantity you're eating.