It's not an easy task to figure out what exactly works for you, because everyone has different strengths and capabilities. However, there are general guidelines that apply to everyone, which would ensure that they are on the right path.
Today, we would be discussing on few suggestions for those who want to swim their way into the fit-family. These ideas and suggestions are necessary to ensure that you stay in shape while avoiding injuries.
Swimming is one of the best cardiovascular exercises out there. That's because it engages all the muscle groups in the body while stimulating your heart rate at the same time. It's very safe to say that swimming is the only exercise that engages all muscle groups at the same time.
Also, swimming has low rate injuries; that's means while swimming, you are less likely to get yourself injured because of its low-impact nature.
Same with other cardiovascular exercises, you need to be consistent with swimming for you to get the maximum benefits.
People who want to stay in shape at all cost engage in different cardiovascular exercises at least three times a week, for about 30 minutes per session. With these statistics in mind, if you are looking to get any form of fitness by swimming, you would need to swim for at least 30 minutes several times a week.
If you can swim for about 20 minutes while taking small breaks in between, extend it to about 40 minutes so that your actual swimming time would sum up to 30 minutes.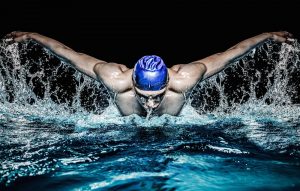 To start, you have to commit to working out thrice in a week, for about 30 minutes per session. You can swim for that same time, and ensure you do as many laps as you can while counting the laps. However, if you are capable of doing more than 30 minutes, you can opt for 45 minutes or even an hour.
Here is a brief breakdown of what the Basic Swimming Training Workout Should Look Like
Warm-up:
2 laps for 100 meters and then you rest
1 easy lap and 1 fast lap (repeat this process thrice without resting – 500 meters), and then you take a break
2 laps Kick for 100 meters
Alternate between 1 lap backstroke, 1 lap freestyle, and 1 lap breaststroke – 200 meters and take a break
Swim down – 2 laps for 100 meters, and rest
This should give you a total of 1000 meters, and you can do these three times every week.
The outlined workout is detailed and perfect if you are looking to get the essential conditioning and still keep fit and improve on your stamina. If it becomes extra difficult, you might need to sign up for swimming lessons or watch swimming tutorials online, so you can perfect your skills before trying out the sets mentioned earlier.
As you progress, you should be fit enough to swim for about an hour, or a total of 2500 meters per session. If you can achieve this, then you are in no danger of being out of shape.
As a diehard swim fanatic, it would help if you can incorporate other workout routines into your activities. For instance, if you are swimming three to four times a week, during your off days, you should try out lightweight training. This would help you achieve your fitness goal faster.
When you add weights to your swimming routine, it would help tone and build up your muscle mass, and this can
not be achieved with just swimming. In addition to that, weights done moderately and properly can help build and strengthen certain tendons and muscles that are susceptible to inflammation with constant swimming – the rotator cuff being the most common.
Running can be an excellent supplement to swimming, especially if you have good knees and feet. Plus, it's one of the most effective cardiovascular activities out there because it engages your respiratory ways, and this cannot be achieved from swimming.
You can try running up a steep hill, or running short distances, and at a fast pace. This would help speed up your heart rate in ways that swimming cannot.
Research has shown that a lot of swimmers also incorporate yoga into their swimming routine. So you can try taking a few yoga classes, as this would also help you improve your body's flexibility, which would come in handy while swimming.
It would be best if you could match and mix other activities into the swimming routine we have mentioned above, as this would help you achieve your fitness goals faster. Throwing other activities into your swimming regime would create a jolt to your routine.