It is often said that a man's physiological and mental health is bound up in his ability to have satisfying sexual relations. Loss of sexual libido can create feelings of inadequacy and the sense of being "less than a man". This can lead to depression and anxiety and put a strain on their relationships.
One of the common causes of low sex drive, particularly in men is low levels of the male hormone testosterone. This is the main hormone associated with the male sex drive and is normally at its peak in the teen years and early twenties.
However, as men age, especially around age 30, testosterone levels start to ebb and can change as they get older. This can decrease sex drive, affect their ability to have and maintain erections (erectile dysfunction) and can wreak havoc on their sexual relationships.
Studies show that a few factors may affect testosterone levels in men as they age. These include:
Stress and sleep patterns
Deprivation or limited opportunities to engage in sexual activity
Chronic illness
Depression
How to Increase testosterone levels in men:
There are a few natural ways that can effectively increase testosterone levels in men.
Lose and control body weight
Engage in strength training and high-intensity exercise routines
Increase the intake of vitamin D and zinc
Reduce stress (work, relationships)
Practice healthy eating (increase healthy fats, reduce refined sugars)
Since sexual relations are an integral part of a man's overall health and well-being, there are other ways to increase libido and get you back in the saddle to increased sexual pleasure.
Science has shown that incorporating essential oils into your daily routine can have an aphrodisiac effect on the sex drive. The aromatic aromas of essential oils, when inhaled is believed to have a calming, balancing and invigorating effect on your mood and can heighten sexual awareness and help enhance sexual performance.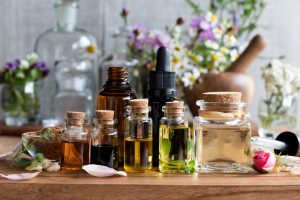 There are many essential oils that can help ignite the spark in your sex life, such as:
Fennel oil (hormonal balancing)
Cassia (stimulates the nerve centers)
Ginger
Mountain savory oil
Hazelnut oil
Some oils can also be made into stimulating teas to help relieve stress and symptoms of impotence:
Blends of cinnamon, ginger, acerola (vitamin c) with a drop each of peppermint and sage oils can help relieve mental, physical and sexual stress.
Adding a few drops of ginger essential oil on your fruit, yogurt or fruit salad or to a spoonful of honey in a hot drink just before bedtime can also be very helpful.
Here are 5 top essential oils that can boost your libido and put you back in the driver's seat:
Use them in infusions, creams, topical applications or sprays. You can sniff or inhale them, add them to your bath water or massage them all over to help soothe, relax, and reconnect mind and body for increased sexual awareness and arousal.
Neroli Oil
This oil is derived from orange blossoms and is said to be uplifting and intense in its effects on the libido. Research suggests that inhaling neroli oil helps increase sexual desire and relieves menopausal symptoms in women.
Ylang Ylang
The gentle floral scents of this Asian flower, are said to be a sexual and mental stimulant. Its exotic aromas are said to have potent antispasmodic, and antidepressant properties, that can be a very appealing aphrodisiac.
Clary Sage
Said to be balancing and soothing, inhaling this oil may help balance hormonal levels when the libido is low. Science has shown that inhaling this oil has an anti-depressive effect on women experiencing menopause.
Jasmine Oil
Made from the petals of the jasmine flower, it refreshes the senses, increases alertness and arouses sexual feelings. It is ideal for a soothing and relaxing massage.
Rose Oil
Rose oil or Damask rose oil is said to relieve anxiety, calm the nerves and increase arousal. A few wisps just before bedtime will help you relax and set the mood. Try it for 2-3 weeks to benefit fully from its effects.
A full body massage or relaxing bath are great ways to reconnect with you partner and prepare the mind and body for a satisfying sexual experience.
3 drops neroli oil or sweet orange oil
2 drops jasmine
2 drops ylang, ylang
Relaxing bath oil blend: (soak in 37◦ temperature water for at least 15 minutes)
5 drops ylang, ylang
5 drops rosemary verbenone essential oil
5 drops vetiver essential oil
Conclusion
Loss of libido can put stress on relationships and affect sexual performance. Exotic, aromatic essential oils can help set the mood, enhance sexual awareness and help get your groove on. Try them, you'll be glad you did.