Life seems to be constantly on the go now more than ever. So, shouldn't your nutrition be too? It can be so easy to make minor adjustments in your nutrition plan to coincide with your on the go lifestyle. The most important thing is that you should eat, no matter how busy you are, no matter where you are. Here are a few tips to help you adjust to an on the go nutrition plan.
While you're at home.
While you're at home there are many ways to help yourself adjust to an on the go lifestyle. Even when you are at home, there are so many different things going on that you can easily lose track of time. Before you even get going, make sure that you are eating a good meal. Set aside some time so you don't run into that frantic grab and go mode when it comes to food and possibly make unhealthy choices.
You should eat a healthy meal every day, so why not try meal prepping? This is one way that you will be able to prevent the grab and go mentality with food. If you are meal prepping and planning at least one day of the week, it will make the rest of your week go by much more smoothly. You should plan at least one healthy meal a day for yourself. This should only take up about one evening of your week to make enough food for the week. When you do plan these meals try to include the following:
Lean proteins

Carbs

Vegetables

Fats (unsaturated fats like avocado)
You can also prep for snacks during the day. Instead of eating out of the vending machine every day for a snack, plan ahead. It can be very easy to add nutritious and healthy snacks to your everyday meal plan. It can be very beneficial to invest in a lunchbox for these kinds of snacks. Here are a few examples of healthy snacks.
Nuts and seeds. Try almonds or sunflower seeds.

Canned sardines or salmon

Fresh fruit. Try cut up apples or bananas.

Grilled chicken. Pack some slices if you want more protein in your diet.

Protein bar. Make sure that you are buying high quality bars, less sugar, more protein.

Greek yogurt Make sure that you are buying plain

Greek

yogurt.

Jerky. Try getting jerky that is low in sodium and sugar.

Hummus

Hard boiled eggs

Edamame
If you are at the gas station, or the workplace.
Try looking for healthier items when you are not at home. These healthier items will fill you up for the day better than sugary junk foods. You need to aim for better food, but you do not have to be perfect, sometimes we all fall a little short when it comes to food. Some options for healthy gas station or workplace snacks are:
Proteins:
Plain

Greek

yogurt

Hard Boiled eggs

Edamame

String cheese

Protein bars
Beef jerky
Flavored yogurts
Carbohydrates:
Fresh fruit

Fruit salad

Dried fruits

Whole grain breads

Crackers

Granola bars (oat-based)
Fats:
Hummus

Mixed nuts

Nut butter

Peanuts

Sunflower seeds

Guacamole

Trail mix

Dark chocolate
Remember that healthy eating comes from where you stop at. Make sure that even if you are choosing an on the go option, you still being mindful of where you are and what you are eating. It can be very easy to find the foods suggested above in any gas station or workplace eatery. As long as you are looking for them, and making them your healthy alternative, you will be able to have better nutrition. It all starts with your food.
Remember that no matter what you are doing, you should eat plenty of protein, carbs, and fats. There is a large difference in carbs that you find in fruit and the ones that you find in junk food. There is a similar difference in fats too. Look for unsaturated fats over saturated fats. You should also eat lean meats when you are getting your proteins. Keep these simple things in mind when you are choosing your foods.
Also keep your portion sizes accurate. No matter what you are eating, or where, it is good to keep your portion sizes in mind. Restaurant sizes are always very large, so try ordering kids version of the meal, for example. You should eat frequently throughout your day and in small amounts, instead of barely eating and having one large meal. That routine can be tempting with an on the go lifestyle, but make sure that you are sticking to a good diet plan to help with your nutritional needs.
Another aspect of nutrition…
Another aspect of nutrition is your health. If you are looking for all around good nutrition, you should focus on your health just as much. It is easier than you think to get in some subtle workouts throughout your day. Below are a few options to help get in a few workouts throughout your day.
Workout in your office.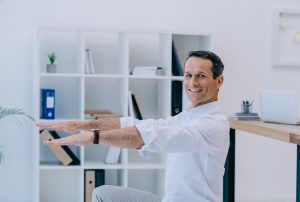 When it comes to working out, and working on your health, you can easily do this in your office. It only takes 30 minutes of activity a day, four times a week, to stay healthy. With added nutrition, you will have an overall healthy life with these few office workouts.
Do squats.
You can do squats while you are on hold, while you are waiting for your food, really any time is good.
Do

push-ups

.
As long as you have a flat surface you can do push–ups almost anywhere. You can also do standing push-ups by using your desk instead of the floor. These are as easy as any other workout and can help build up your overall health.
Do jumping jacks.
Especially if you have a private office, jumping jacks are super easy to perform in the office. All you need to do is a few here and there throughout the day, and they will help you to hit that 30 minute mark.