You may have created a bond with someone that you thought would last your entire life. The relationship may have begun strong, progressed and gotten even stronger, and one day, it seemed, the relationship just ended. Your partner may have many reasons, but you may still be struggling with their loss. You may be wondering what you did or didn't do to make them leave. The truth is, the decision is their own and you can only cope with their leaving.
When your partner decides to end the relationship this can be a very difficult time for you. Here are seven things you can do to cope with their absence that may help you live a better and happier life.
#1 FIND A FULFILLING LIFE WITHOUT YOUR PARTNER
Before you met your partner you had a fulfilling life that was enough for you. You were alone and you had goals, hobbies, and other activities and people that filled your time. When your partner leaves, whether suddenly or slowly, you may feel as if you have nothing left, but your life will go on without your partner. They do not turn the sun and never did. While you may have devoted many years to this relationship, you must now find the fulfilling life that has been waiting for you.
When your partner left all of the doors of your life opened back up.
#2 DON'T BE AFRAID TO GET ANGRY
Expressing your anger in a safe and adaptive way is healthy for coping with your partner's desertion. When you are dealing with their leaving, it's very important to allow yourself to experience every emotion that comes. If you want to cry for a day, do that. If you want to scream, do that. Punch a pillow or some other inanimate and unbreakable object as much as you want. Go to the gym and use a punching bag. Anger and its very short-tempered cousin, rage, are perfectly acceptable when expressed healthily.
The protective factor of anger is that it can help you with the deeper feelings of inadequacy and helplessness that your partner may have left in you. Without some means to assist with these feelings, you may succumb to them, and your life may grind to a halt.
In addition, anger can be a great motivator to find the life you once had and separate from your partner. You may want to prove your spouse wrong if they said you would not survive without them or prove to yourself that you can build a new life. While getting revenge-success on your partner may be all right in the short-term, it is even better to get success for yourself. Build the life you want with the people you want.
Let anger lay the first brick.
#3 HANDLE THEIR LEAVING WITH DIGNITY—FOR YOUR OWN SAKE
While their leaving may feel like a knife in your heart, try your very hardest to handle their departure with class. You may want to yell at them, send them angry texts, or "take care of" their new partner with your fists, but resist these reactions. Staying calm and keeping your dignity is a great way to remind yourself that you have control of your life. You had a life before this person and you have a life after them. Your dignity can help you move on. Keep your head up and your eyes on your future life.
Your partner's leaving may hurt more than you have ever hurt before, but they haven't broken you. They've only given you a new way to grow stronger.
#4 STAY CONNECTED WITH YOURSELF AND YOUR NEEDS
After you have dealt with the first or second jolt of your partner's leaving, resolve to stay healthy and strong. Though your relationship was a big part of your life and offered you a lot of support, now is a great time to build a life of healthy habits and people. Try yoga, journaling, meditation, or meet some new friends. Isolation can greatly affect your ability to move on, but finding new ways to express yourself is a great way to kickstart your rebirth.
#5 "YOU'LL BE OK." WILL BE THE NEW MANTRA PEOPLE GIVE YOU
During the first stages of your grief, everyone and their kitchen sink will tell you, "You'll be OK."Some of them may even bash your no-good-rotten-to-the-core ex, but the most you'll hear are words of encouragement. You may not believe these words in the beginning. They will sound like empty platitudes from the mouths of people who don't understand your pain, but as time goes on you will one day realize that you will be OK. You'll see this new life and all of this open time and opportunity without your partner and these words will be the mantra for you to keep moving forward.
#6 STAY IN REALITY
In this situation, hope won't do you good. It may lead you to constantly evaluate what you could have done differently. You may agonize over a decision made 10 years ago or a decision you didn't make. You may hold out hope that your partner will come back.
When your partner leaves, facing reality is the best move. This can help you accept the new life you have so you can step forward with confidence.
Two steps to begin this process is to accept the fact that you and your partner won't reconcile when they have begun a new relationship and resisting the hope they will change their mind when they have hired a lawyer. Take their actions at face value and assign no other emotions to them.
#7 DON'T BEG THEM TO STAY—NO MATTER HOW MUCH YOU MAY WANT TO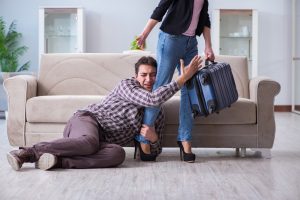 You may want to beg your partner to stay. You may want to pull out every reason you can think of. But, for your own sake, don't do this. They have shown you they do not want to stay, so it is best you believe them.
When they announce they are leaving, try your best to remain quiet and let them leave. You are strong and you do not have to beg them for anything.